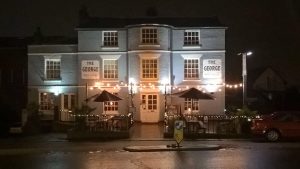 This is the regular fortnightly Tunbridge Wells Ukulele Night Thing, 8pm start to 10:30.
Not to be confused with any other ukulele jam out there! There's no formality. It's not one of those intimidating village hall things, all sat in a circle; more a warm, sit anywhere with a pint, glass of wine, coffee, whatever you fancy, and your uke and join in. Just play the chords you do know, skip those you don't and have fun. You'll soon pick up the other chords along the way, that's how we all started.
No entry fee, subs or commitment, it's FREE, though not the drinks!
The George www.thegeorgepubtunbridgewells.co.uk is a lovely pub, recently crowned West Kent CAMRA Pub of the Year!!
What songs do we play? All sorts. We have a lot to choose from on the night, so much so, most of us download them to tablets, instead of printing out 100's of pages. You can download the songs from google drive – a link to them is on this page here http://twukulele.com/twunt-songs/