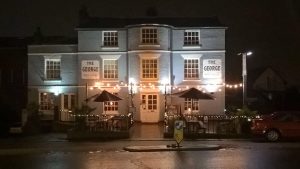 We, TWUNT, The Tunbridge Wells Ukulele Night Thing, are moving to The George Pub.
Our first move for a few years, this time, closer to the centre of Tunbridge Wells.
The first meeting is Monday the 4th September, and everyone is welcome to join us.  There's no charge, just grab your uke and rock up and strum along with us.
Can't play?  Don't worry if you never played before, we've all been there (not long ago for some of us).  We welcome anyone to play along with us – just play the chords you know when they popup.  There's plenty of time to pick up the other chords as you get the hang of it.
Haven't got a uke?  You can come too!   Pop down to listen, watch and even sing along (we like that).  Perfect excuse to get out on a Monday evening.
See you there!