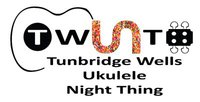 Join the Tunbridge Wells Ukulele Night Thing at the forum on 29th May as part of the spectacular Unfest weekend.
Fresh from a whole bunch of other gigs this month and stars of local TV, we're due on at 22:30 on the Sunday night, the 29th May.
Don't tell any of the other acts, but they're just warm-ups for the real event of the weekend!
You can find out about the rest of the unfest weekend here:http://www.twforum.co.uk/unfest/
and more about us here: http://www.twukulele.com/
"Uke be crazy to miss it!" – Paul Merton
"I'm going; it's free!" – Ken Dodd
"It'll almost be as good as my soup" – Johan MacLeod
"Don't Shoot Me I'm Only the Piano Player" – Elton John